When community members and visitors gathered for a golf tournament Monday morning at Stillwater Country Club, many of the most enthusiastic attendees didn't compete on a team.
Instead, they walked around the course with their families, stopped at the snack tent and waited in the club with colorful water guns, ready to splash the next group of golfers who rolled into a cart.
The kids at Cowboys vs.CoBoy Classic were having a day out having fun being kids.
Piedmont residents Billy and Jenny Hughes watched their 8-year-old son Will join his peers and pose for a photo with Oklahoma State football coach Mike Gundy.
"Basically, the kids run everything," Bailey said. "What they say and do goes, it's just a fun experience."
Billy and Jenny said the event was a welcome distraction from therapy sessions for Will. Later, he underwent chemotherapy again, a routine step in his fight against leukemia. It's more than any kid has to handle, but the boy known as "Warrior Will" wasn't worried about it when he and his twin sister, Cora, were strolling around the country club and meeting with the Ohio State University coaches.
The Cowboys vs Cancer Cowboy Classic has allowed cancer survivors and their families to connect with one another and connect with prominent figures in the Ohio State University community. These individuals unite for a common purpose: to raise money for organizations dedicated to cancer research.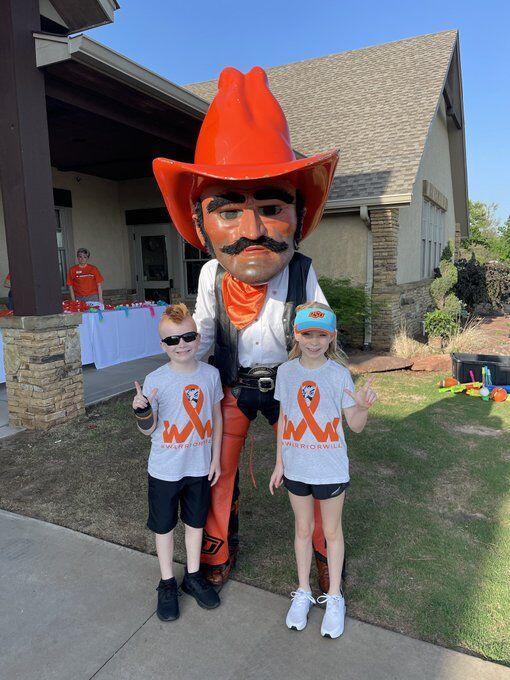 28 teams took part in the tournament, Kendria Cost, co-chair of the Eddie Sutton Foundation, said, and the celebrity auction brought in $109,000 in donations. Teams present for opportunities to select 'celebrity' guests to compete with.
The Bucky Tournament, which honors the memory of Cowboy football player Brian "Bucky" Utter, contributed $50,000, ensuring the first pick. The team selected Cowgirl Golf alumnus Emma Broze, who competed on the LPGA circuit.
"She's won this tournament before with her team," Coast said. "So that was a really good choice if you wanted to win."
The "celebrity" guest list turned the Cowboy Classic into an orange-colored version of the Hollywood event. The group included—among many others—Dallas Cowboys Blake Garwin, men's basketball coach Mike Boynton, former 1st Cowgirl Ann Hargis, and current First Cowboy Darren Shroom.
Most of the time, they weren't the center of attention. As former Cowboy quarterback Clint Chelf was driving a golf cart, he stopped to talk to Will and his dad on the road. Gundy, his wet orange polo shirt bearing evidence of children's water gun tricks, joked the kids and called them by name.
The event revolved around survivors, both children and adults.
Kendra Kilpatrick, who coached the girls' basketball team at Stillwater High while dealing with breast cancer, was named Super Woman, and took home a plaque and an orange gown.
"I know there are a lot of people battling cancer and to get to know me because that is really special," Kilpatrick said. "…Our family is just a loyal, true family of OSU, so being able to do this around so many of the great and famous of OSU is really amazing. It's really special what they do for cancer research and to raise money."
The next step is to determine where the proceeds will go. Cost said that decision has not been finalized, but the creation of the Eddie Sutton Foundation allows the funds to potentially benefit local organizations.
"I can tell you, it's going to be thoughtful, it's going to be strategic, and it's going to pretty much take into account what Coach Sutton wanted," Coast said.
For the Hughes family, the impact of the Cowboy Classic is immediate, and it includes more than donations. While Will and Cora share laughs with friends, Billy and Jenny cement their bond with a community of parents who understand what they're going through just as they expect the day – expected to be January – when Will can ring the bell to signal his cure. is over.
"We got to know these people, we can get advice from them, and they're going to ask us for advice on certain things about treatment and things like that," Bailey said. "You become a good and close network of people."