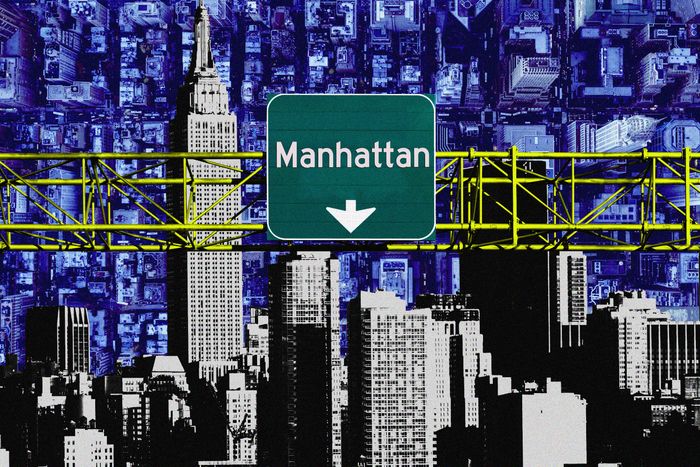 Photo Illustration: Curb; Images: Getty Images
In this bimonthly series, Realtor DiaryWe hear from people in the middle of an ever wildest market. Today, a sneak peek into the working world of Alex, 44, CEO of a full-service commercial real estate brokerage in New York City.
8 am I'm late. I recently turned 44 and after waking up after a night of partying, life hit me like a ton of bricks. It was like, "Okay, I'm ready to accept that I'm not in my thirties anymore."
8:15 am I quickly prepare alongside my girlfriend, who is in the arts – a completely different lifestyle. We're in my brownstone apartment on the Upper West Side. I have rented this place, but I also own several buildings.
9 am I'm out the door, and I head to my office in Nomad. I have a fruit platter and a breakfast sandwich as I sit in my private office, which has a luxurious professional vibe: large desk, upscale swivel chairs, beautiful view. For the next 30 minutes, I answer emails and check my to-do list. Oversaw more than 400 offices downtown. That's millions of square feet. I have dozens of people who work for me. I don't feel nervous though. I have ambition.
10 am We have a tour of the new building. Beautiful, big, new building with great furniture. It turns into a complete emergency. We have a few brokers and renters coming in to look at 10,000 square feet, and when we get there, the entire place is flooded. tube burst. There is flowing water! This is not good. It is very difficult to get tours of large spaces – big companies are generally already settling somewhere – and now no one will care.
I am trying to correct the situation. I tell everyone that this is not a problem, it is very common, etc.
10:30 am They're all like, "Sorry, bye." They move on to the next thing right away. There is no room for risk at the moment. Everyone knows they can rent whatever they dream of – their perfect office – at any price they want, and sometimes for as long as they want it. Everyone wants a rock bottom cheap deal. There are 95 million square feet of vacant office space in Midtown and Midtown Manhattan now. I honestly don't know what will happen to her. I mean, we have a restaurant tenant paying 77 percent less than they were supposed to pay for the whole of 2021 — as well as 77 percent less than they were in the actual lease they signed before the pandemic. In 2022, they'll pay 61% of what they're supposed to be paying. We said yes, we agreed. It felt like the only movement at the time.
11 am I am very upset. This was our first showing of this building in weeks, and to say it all collapsed is an understatement. But you do your best to keep going.
12 pm I see a personal trainer at 12, in a private gym. I gained 12 pounds from COVID so we are working on getting rid of that.
1:30 pm I met one of my favorite clients for lunch at Nolita. He's an owner who owns five buildings and thousands of square metres, a mixture of office and residential. It's bullshit to hire but we're really good at what we do. He's the type of landlord who understands that every tenant who walks through the door is a VIP, and that every tenant wants to install walls, furniture, and building. He is very aware that they are going to demand it and we have to give it. The answer should be No problem. This guy also understands that there are 20 other buildings in the neighborhood, with similar offerings – amenities, high ceilings, beautiful decor – so what really sets us apart is flexibility and friendliness.
On the flip side, the nightmare customer is the landlord who can't be flexible, or is out of touch regarding rental rates, or can't budge because they have a mortgage and lenders will refuse. These owners should know it's a desert outside. I don't want to deal with fake people.
Just yesterday I was trying to convince the landlord that rents are 40 percent lower than they were three years ago. I was like, "I know you don't want to hear that, but it's the truth!"
15:00 An employee enters my office. I know he's about to quit smoking. He can't answer the phone, it's too stressful for him to make cold calls. I'm like, "It's in your job description. Your contract literally says that's the most important thing here." It's like, "I can't do that. I can't." Therefore, it will not work. I see potential in everyone, but sometimes it just doesn't match.
I have sympathy for the people who started. Your first few years are your worst years. You are a novice. But if you can last for four years or so, you will do well. You can make about seven numbers if you're doing well, eight numbers if you're killing it completely. Even in this market.
But I will say, the eight men, they have no life. They work 24/7 and sometimes they need materials to maintain this lifestyle. They don't take time for themselves, they don't travel and they enjoy life. They do not take vacations to Italy and France. I love my holidays in Italy and France.
4 pm I gather my team for an impromptu sales meeting. We have a lot of space to move and that should be our daily goal. Whatever it takes – whatever it costs. Non-stop calls, lots of shows, social media, email blasts, etc, everyone needs to make calls and do communication, no matter how painful it may be.
I tell my employees that I get it. Communication in a post-COVID world is challenging. Do you need office space? "no. We're all WFH." There's relentless rejection. They contact law firms, fashion lines, insurance agencies, ex-stores, and they call everyone; they do targeted Google ads, targeted Instagram ads, and so on.
Remind them that it works, though. One in ten closed deals is because someone picked up the phone, or because of social media, or other out-of-the-box marketing. If you keep pushing, all of a sudden, you're doing 40 percent more work than your competition.
We talk about how we get back into our open homes because everyone is an introvert now. WFH changed everything forever, but I feel there will be an upside. There will be a lot of converting office buildings into apartment buildings; People will have to start investing in their buildings; The owners who are not selected will be the last to be selected.
5:30 pm Some good news! We rented an 8000 square foot office in Chelsea. I knew we would rent it. It had really nice polished concrete floors, glass desks, great kitchen, lounge and co-working area. It shows really well. This is what today's office tenants want: good looking, ready-to-work, furnished if possible, and bright spaces. However, rent is 30 percent lower than it was two years ago. Honestly, I don't care, I just want signs of life and I'm happy.
5:50 pm I heard the bell ring in our office because of the Chelsea deal. We have a bell here any time someone closes a lease or deal. I believe in hope and positivity. We celebrate the small victories, too. It's like, "Wow! You got an offer! Put that on the calendar!"
7 pm Before everyone takes off, we all drink together. Alcohol consumption in my office has tripled since the pandemic. It's crazy because we're used to socializing in the world all the time. We'd host great parties with our DJs, or have great networking events, and have fun together in the city. But now we are hosting these events now and almost no one is attending. Literally only four or five people appear. And we even offer gift cards as incentives to come – like $50 for Starbucks – and yet, no one showed up. So instead, we drink here together. I'm Scotch, or sometimes Japanese whiskey, man.
8 pm I met my girlfriend for dinner in Soho. Prime Soho, for office space, is hot. All these crypto companies are coming here. NFT as well. There is a new wave coming now. I would say the same goes for the niche neighborhoods: Noho, Flatiron, Meatpacking, and Dumbo. Nobody wants Murray Hill, they don't want the East '40s, and frankly, they don't even care about center rock.
21:00. I asked my girlfriend what she thought of the daily stress of my job. she says lu I'm happy, she's happy. A few months ago, you'd see me with my head on my desk, desperate for the market. But now I am back to happiness.
Because at the end of the day, I love rat racing. I thrive from it. I get super alpha motivation sometimes, I make motivational videos for my team, and I try to get everyone excited. Sometimes I sit at my desk and blow up Eminem's office 8 miles The soundtrack and I feel like I can conquer the world.
But I'm lucky that I can break up too. I want to live my life. I want to go to Paris and then chill out in the south of France.
11 pm I browse my phone until late at night. I try to get things done. Reply to as many emails as possible before tomorrow. Consider new listings and pending sales and check colleagues. It is an obsession. But a healthy obsession.