As the popularity of home fitness products continues to rise, we've rounded up a selection of premium equipment for you to consider, so that exercise can boost your physical health while great designs nourish the soul.
Four out of five people in the United States own at least one fitness device at home, according to a 2021 Statista Global Consumer Survey. Although we don't need statistics to discuss home gym equipment, it's good to know we're not alone in This endeavor. This statistic and the rising market value of sports equipment may have led luxury brands to develop beautifully designed products for the home fitness area.
Dior's recent collaboration with Italian fitness brand Technogym is one example of a high-end workout product. But luxury fashion brands aren't the only companies putting beauty at the forefront of their fitness equipment.
"The thoughtful, easy-to-use and elegant design makes simple tools luxurious and easy to use," iFIT expert Colin Logan told Radiant Life. "I believe that all that encourages consistency of exercise is luxury. It is unfortunate that old, shocking and uncomfortable equipment with no streaming content connects users to an expert source." While working out at home can already be seen as a luxury, connecting with professional trainers is much more luxurious — and Logan believes that luxury should be within reach.
Will one of the products we choose be one that allows you to get a consistent workout regimen?
NOHrD Sprintbok Curved Hand Treadmill
The classic Sprintbok from NOHrD is known for winning the Concours Lépine Design Award for its slim, curved shape and elegant wood frame. While it offers the advantages of a traditional treadmill, it goes far beyond the usual. The belt is made of flexible wooden slats and precise geometry of ball bearings, operated exclusively by the user's legs, so the runner sets the speed; The treadmill is not set at the specified speeds. Vibration-absorbing natural rubber is used in the belt to allow for quiet operation. The screen displays performance data, including distance, time and speed, and the user can incorporate the Sprintbok app with three modes — free training, running scenes and fitness trails — into their training.
The product has become popular in the hospitality industry, with clients including the Four Seasons Hotel Riyadh, Walker Tribeca, and Swissôtel Chicago. To purchase a Sprintbok in the US, visit the WaterRower website, www.waterrower.com, call 1-800-852-2210, or email [email protected].
Hydro rowing machine, designed for easy storage
Speaking of American fitness brand WaterRower, their rowing machines come in a large variety of wood hues, so the user can choose one that matches the interior of their home. It has been described as functional fitness furniture because it is stylish when set up for use, but can be stored upright and takes up no more space than the width of a dining room chair. Easy setup makes quick indoor rowing sessions possible.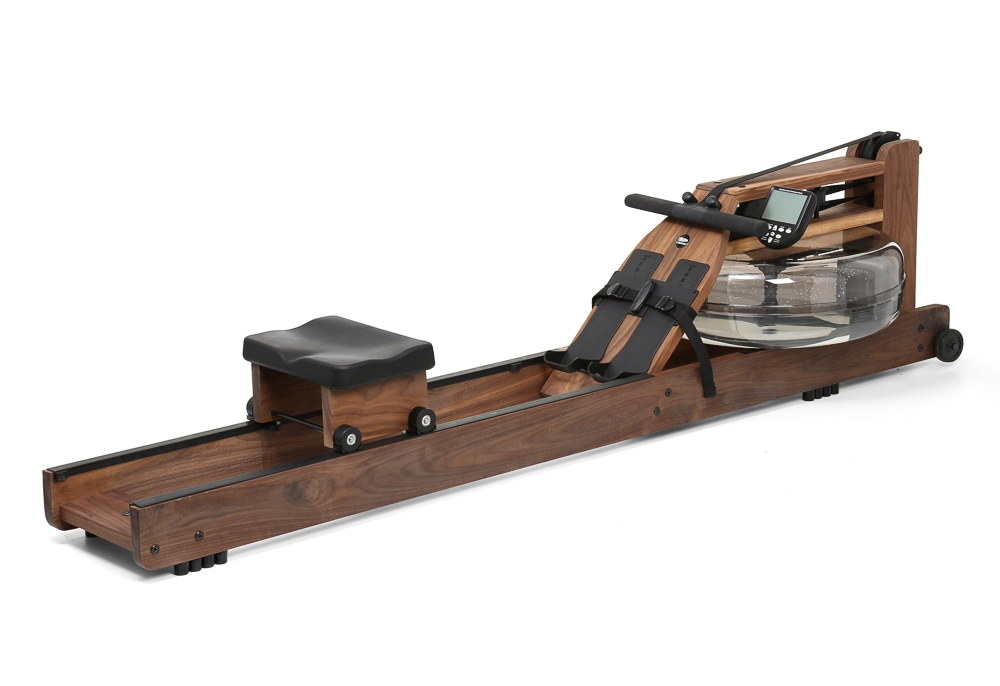 The WaterRower uses water power unlike traditional propellers and magnetic rowing machines. The feel and sound reward the kayaking experience. It repeats not only the physiological dynamics of rowing, but also the aesthetic pleasure. It harnesses the power of water to provide smooth resistance, avoids jerking or jarring, generates a smooth contact, and enables regular strokes – an important component of training muscle groups evenly.
The WaterRower is labeled "Made in the USA," and its hardwood comes from renewable sources in the Appalachian Mountains.
Images: https://www.nohrd.com/us/downloads/
Dior Technogym Fitness Equipment
After launching Dior Vibe, a sportswear line designed by Maria Grazia Chiuri for the Dior 2022 Cruise Show, French luxury fashion brand Dior teamed up with Italian fitness equipment and digital tech brand Technogym to redesign their products. The limited-edition set released earlier this year includes a state-of-the-art connected treadmill, a multifunctional weight bench (including accessories like dumbbells) and an exercise ball. The Dior and Technogym Limited Edition line of high-end gym equipment comes adorned with the Dior star – the lucky founder's charm – as well as Christian Dior's name and signature horizontal stripes.
benefit? Contact your local Dior boutique where the products will be sold exclusively.
NordicTrack Vault: The All-In-One Fitness Mirror at Home
NordicTrack Vault is a comprehensive home fitness mirror, a high-tech home gym that combines the expertise of a personal trainer with the convenience of working out from the comfort and safety of your own home. The Vault features a stylish freestanding design with interior storage that includes shelves to store exercise equipment such as dumbbells and yoga and strength training accessories. The rotating mirror can be used outside to bring iFIT Interactive Connected Coaches into your home for exercise sessions; It works as a normal mirror, but when connected to the iFIT app, it switches when the user is in training.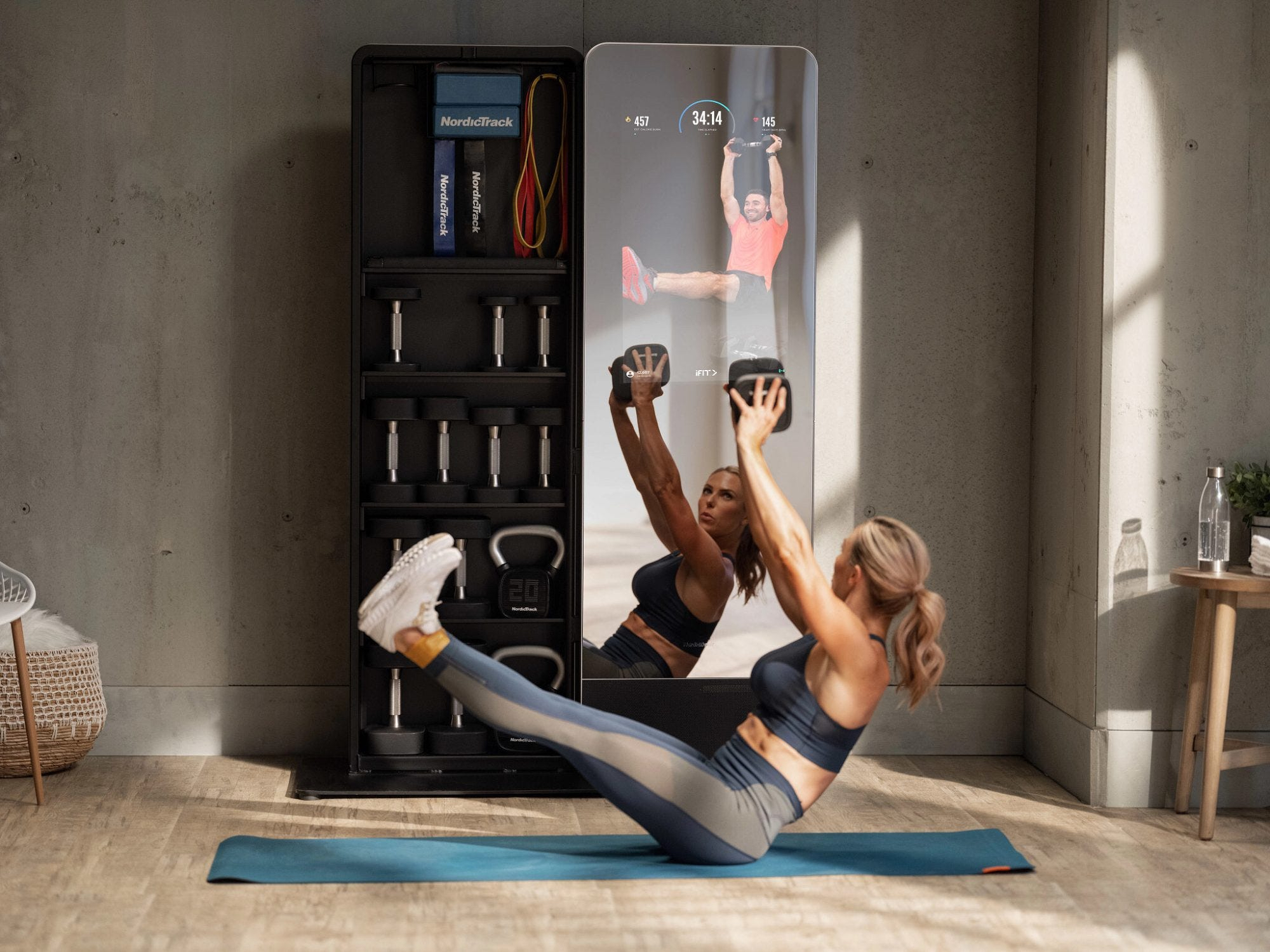 "During a session, you can see yourself partially and see your entire coach," says iFIT expert Colin Logan. "For strength training, getting in the right form is really important. It's great to see what the trainer is doing and what you're doing at the same time; iFIT tech broadcasts the workouts live, in-studio, and globally. World Games are filmed all over the world and can be Running them as a series, like the world marathon drills we launch on race day."
Through these streaming exercises, users enjoy beautiful and culturally rich stories. They can also access application sessions that use Google Maps, which has partnered with iFIT, and users can simulate a run from their homes to the desired destination; iFIT streams Google Street View maps, and the terrain of the track is transcribed into the slopes and inclines of the Vault machine.
You can learn more about Vault at the NordicTrack website: www.nordictrack.com.
This article was originally published in Radiant Life.