Treehouse ideas are a childhood favorite and often overlooked in the garden. We're all familiar with the small covered platform, set in tree branches, accessed by a ladder or rope bridge – however, these simple designs are a world away from modern treehouse ideas.
From round pods and castles to multi-room designs that feature working kitchens and bathrooms, our treehouse ideas make a distinctive addition to your backyard landscaping ideas. Treehouses can also be used to alleviate space issues indoors, offer dream home office ideas, provide guest accommodations or even an extra income stream.
Everyone loves tree houses. They bring a smile to your face no matter how old or young you are. They add value to your property and provide an amazing and fun garden feature. With everything going on in the world right now – having a safe place to retreat to in your own garden is more important than ever, says Henry Durham, founder of High Life Treehouses.
Tree House Ideas – Planning & Design
When it comes to designing your treehouse, treat them the same way you would any other garden room ideas. Focus on its purpose, whether it is entertainment, work or a place to play as this will determine the look, feel and layout. Also, when designing the exterior of your treehouse, consider pre-existing landscaping and backyard ideas—especially if your treehouse ideas are likely to be visible from the outside or inside.
1. Get the look right
When deciding on the exterior design of your treehouse, it is important that it blend in with its surroundings. Choosing natural or reclaimed materials will help your treehouse look like it's always been there—wood or stone are the two favorites and pair well with cabin décor ideas. However, even if you opt for a rustic exterior, that doesn't mean you can't embrace more luxurious and sophisticated ideas inside.
2. Think about access
How you will get to your treehouse is a vital part of its initial design. There are lots of different options, from the classic ladder or rope bridge to more formal stairs.
The design you settle on will be partly informed by the purpose of your treehouse. If it comes to hosting visitors, a ladder may be impractical with luggage or for those with limited mobility. On the other hand, a rope ladder would be a popular choice for kids who want the option of restricting access to their secret lair.
3. Luxurious interior design
Gone are the days of the tree house becoming just an empty wooden structure, furnished with an old rug and lounge chairs. Now, tree house ideas can showcase all the typical features of your major property from ideas of lighting and running water to gas, electricity and heating. A wood-burning stove is a popular addition, as it not only provides heat, but also a cozy atmosphere, perfect for relaxing on a cool evening.
Apply the same design principles to your treehouse ideas as you would to other rooms in your home, and take advantage of traditional decor ideas to help create a warm and welcoming space.
4. Factor in amenities and provisions
If you plan to use your treehouse as a guest accommodation or as a quiet getaway away from your home, you need to consider the amenities. Insulation and strength are vital in creating a year-round usable room. This approach is similar to that of other outbuildings, "having a tiled, insulated roof that will keep them warm in the winter and cool in the summer, with underfloor heating being a popular heating option," says Penny Whitlock, Julius Bahn manager.
And the stove, whether electric or wood-burning, creates a cozy interior. An electrician should be able to run underground cable from your home, although if you're looking for a more sustainable solution, consider rooftop solar panels.
There are plenty of small kitchen ideas that would work well as part of your treehouse design. Provided by The Main Company for Wild Escapes, this kitchen features everything you could need for breakfast on the balcony.
5. Install a roof around your tree
If you are planning to build among the trees, it is important to consider a space where you can immerse yourself in nature and enjoy the tranquil surroundings. Drawing on deck ideas and building an extensive outdoor space allows you to make the most of your treehouse's great setup, although be sure to include sturdy deck railing ideas for safety. Pair it with outdoor garden furniture for a space to enjoy in the fresh air meals, or prepare a Jacuzzi for a relaxing space.
6. Get Inspiration from Luxury Treehouse Hotels
Treehouses have seen a rise in popularity as a popular vacation resort, so why not take design inspiration from the professionals? The accommodation is in this beautiful tree house in beautiful Chewton Glen A completely self-contained space, featuring an outdoor hot tub, wood stove, kitchenette, and marble bathroom; It is a real home from home.
7. Make room for a shower
Jump aboard the modern outdoor shower trend with your own treehouse ideas. Instead of adding a swimming pool or hot tub, there has been a rise in the number of people taking their favorite bathing ideas to nature. For a rustic and cool shower spot, discover how to create an outdoor bathroom in an intimate nook on your treehouse rooftop.
8. Maximize the windows to enjoy the scenery
If you have beautiful views, it's a shame to block them from solid walls – instead put swathes of glass in your treehouse. Consider adding patio door ideas leading into your deck area – which will flood your treehouse with light while also providing a stunning backdrop to your interior design.
9. Add a fire pit to your tree house ideas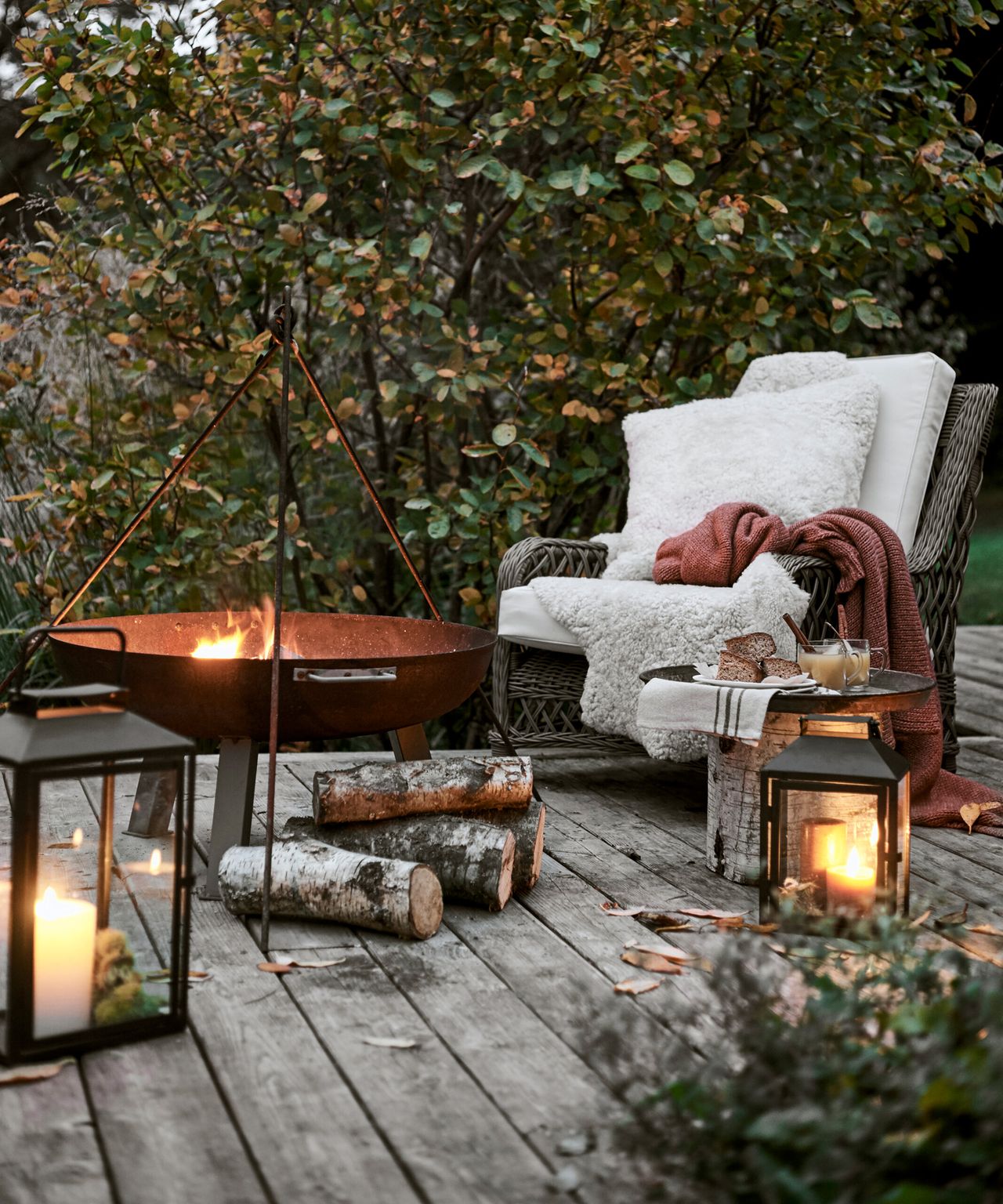 Fire pits are quickly becoming a garden essential, providing equal warmth and atmosphere as well as deterring insects – allowing you to enjoy your outdoor space long into the evening. In a tree house, as with any building made of wood, you must be careful when incorporating any sources of fire, both indoors and outdoors. However, with the right design, you can incorporate a backyard fire pit into your treehouse ideas – never leave a fire unattended and have a fire extinguisher on hand, and never start open fires in dry areas where wildfires are a risk.
10. Don't forget the kids
Even with all these luxurious designs that are the perfect extension to the house, sometimes a tree house can simply be a nice addition that provides a place to play. This attractive design would be perfect as part of kids backyard ideas and is based on a traditional house featuring a red room and fake wood frame and quickly become a favorite of the youngest members of the family.
Is a tree house a good idea?
Yes, a tree house is a good idea for adults as well as children. The treehouse provides a great alternative to the playroom, quirky home office, or even guest accommodations. More distinct than your standard backyard building, a tree house can bring the same benefits, while also allowing you to expand your space without taking up too much floor space.
What does every tree house need?
Every treehouse needs a roof, walls, floor, and access point (whether that's a ladder, a rope bridge, or the like). Everything else is optional and will depend on the style and purpose of your treehouse ideas. If you plan to use your treehouse as accommodation – both for guests and for rental – it will need insulation, water, gas, and electricity, all of which can be integrated into the point of construction.